With our semi-tropical climate, Houston's best termite & pest control services near me takes on a whole new meaning! GreenGate understands that, like almost everything in Houston, the bugs are a lot bigger, and there are a lot more of them!
To keep your home safe, our innovative pest control programs keep the pests from finding their way into your space and stops termites from doing damage to the structure of your home. Our customers trust our Houston exterminators to provide the industry's most advanced and environmentally responsible products available in our industry.
BUNDLE PEST SERVICES &
SAVE $$$
Home Pest
Bundle #1
3% Savings

starting at:
Professional Quarterly Home Pest Control Service
(4x Yearly)

Rodent Bait Box Service
(4x Yearly)

Exterior Spider Web Removal
(4x Yearly)
Home Pest
Bundle #3
7% Savings

starting at:
Professional Quarterly Home Pest Control
(4x Yearly)

Rodent Bait Box Service
(4x Yearly)

Exterior Spider Web Removal
(4x Yearly)

Imported Fire Ant Treatment
(1x Yearly)

Wasp Prevention & Control
(1x Yearly)

Mosquito Barrier & in2Care Pots
(12x Yearly)
Home Pest
Bundle #2
5% Savings

starting at:
Professional Quarterly Home Pest Control
(4x Yearly)

Rodent Bait Box Service
(4x Yearly)

Exterior Spider Web Removal
(4x Yearly)

Imported Fire Ant Treatment
(1x Yearly)

Wasp Prevention & Control
(1x Yearly)
Quarterly Home Pest Control Houston
GreenGate's quarterly barrier pest control program is highly effective and is our most popular pest control service. Rather than working inside your home, GreenGates' proactive barrier spray keeps the bugs from entering in the first place.
Our barrier pest control service covers all the heavy hitters like cockroaches, ants, pill bugs, earwigs, etc., for over 30 different pests. (If you have a current interior infestation, a one-time interior application is the best place to start, then transition to our barrier program moving forward). The quarterly pest control program includes the following:
A detailed inspection of your home's exterior to check for entry points and potential issues.
Sweep for cobwebs on the outside of your home.
Remove mud daubers.
Dust weep holes.
Spray pest barrier around the entire exterior of your home.
100% Guaranteed.
Indoor Pest Control Houston
If you are currently experiencing an infestation inside your Houston home, we recommend a one-time home interior pest control service. Our residential interior pest service includes the following:
A 1X interior treatment of your entire home with special attention to problem areas.
We will treat for ants, spiders, silverfish, roaches, etc… to get them out of your home.
While there, we'll also perform your first exterior barrier treatment.
Once your interior treatment has been completed, you can transition to our exterior quarterly perimeter treatments to keep the bugs where they belong……OUTSIDE!
Like all GreenGate products, we only use the most advanced and effective rodent bait boxes and bait on the market.  This service is available with all of our home pest bundles. 
Rodent bait stations come with their own weight block to hold the station securely where we place it.  
All stations are tamper resistant to children up to 6 years old and resistant to tampering and/or entering by pets.
Our bait boxes target both Rats and Mice and include a dual attraction of bait and nesting material, making it twice as effective.  
Bait will be replaced as needed every quarter.
Houston Rodent Exclusion Service
Pest exclusion, a method most commonly used for rodents, is a preventative pest control method that involves identifying and sealing off any potential entry points to your home.  
A dime-sized hole is all a mouse needs to wiggle into your home, and a rat only needs a hole the size of a quarter! Brand new homes have, on average, 12 entry points for rodents.
Greengate's rodent exclusion service begins with a thorough inspection of your home by one of our licensed pest control technicians. 
Once entry points have been identified, your technician will provide you with a custom rodent exclusion quote to address and seal off possible points of entry. Call today to schedule your appointment!
GreenGate specializes in both the prevention and the remediation of termites.

We perform complete home inspections visually and with an infrared gun for the most comprehensive inspections possible.

If termites are detected, we have multiple budget-friendly solutions to terminate them and offer a 1-year guarantee.

Assuming there is no active termite activity, GREAT! We also have cost-effective preventative programs to keep it that way.

Protect your home by getting your free termite inspection today!
Insulation For Houston Pest Control
Thermal Acoustical Pest Control (TAP®) Insulation is designed to control insects in your attic. This unique insulation is blown in and contains a safe-for-you-family insecticide to prevent bugs from infesting your attic space.

TAP® insulation also provides additional R-Value, helping to lower heat and air conditioning bills.

We recommend adding a 5″ TAP® layer for standard new homes over any existing insulation. For homes with insufficient existing insulation, we can first add a layer of basic insulation prior to adding the TAP® as a cost-saving measure while also giving your home the additional R-Value your family needs. 
Our GreenGate technicians will knock down all wasp/mud dauber nests.

 

Apply a one time wasp preventative to all areas of your home where wasps like to nest.
This 1x service is guaranteed for the entire summer season.
GreenGate offers a 1x yearly imported fire ant treatment with our Home Pest Control Bundles 2& 3.
Imported fire ants cause painful bites for people and pets, leaving itchy pustules and scars.
Greengate's 1x Fire Ant Control removes/kills existing ants and mounds.
Prevents new Fire Ants from inhabiting your yard for 1 full year.
Is safe for your family and pets.
Lawn & Landscape Insecticide for other surface insects such as chinch bugs, ticks & fleas is also available. Click here to learn more.
Houston Commercial Pest Control Services
GreenGate Starts with a free property inspection to assess needs.
With inspection in hand, we can custom-tailor a budget-friendly program for your unique property.
As with all GreenGate services, you get a 100% satisfaction guarantee. Commercial properties we service include:
• Cities
• Clubhouses
• HOAs
• MUD districts
• Municipal buildings
• Storage Units
• Neighborhoods
• Office buildings
• Property management
• Warehouses
• Water districts
• And more!
Each of our top-rated, comprehensive termite & pest control programs is customized to meet the rigorous demands of our Houston sub-tropical climate. Once treated by our pest control company, your home will be pest free and backed up by GreenGates' 100% satisfaction guarantee. 
Scroll down for special offers!
*Money Saving
Coupons $$$
Can you treat for pests inside my home?
We recommend our 1x Interior/Exterior Pest Control visit to get started, and after that our Exterior Quarterly Home Pest Control will do the trick. If you ever see bugs inside again while on our program and had previously received an interior visit, we'll retreat at no extra cost to you.
When can I expect pest control service?
If you have signed up for home pest control, we schedule customers on a quarterly basis. You can usually expect us in January, March/April, June, and September/October.
Do you charge to re-service if I still see bug activity?
Not at all! Like weeds, bugs can be stubborn and typically more active after treatment due to being flushed from their hiding places. After the initial application, you may still see activity for up to a week to ten days. If you are still seeing bug activity 7-10 days post-treatment, give us a call!
What pests are covered with the quarterly home pest control service?
Ants, ticks, fleas, pill bugs, earwigs, silverfish, cockroaches, silverfish, chinch bugs, and more! Learn more about common pests in our area HERE.
Are the pesticides used safe for my family and pets?
Yes, it is! It is best always to allow treatments to your home and/or lawn to dry (about 30 mins) prior to being in the same space or playing in the yard with the kids and pups; this will also allow for maximum efficacy.
Do I need a termite inspection?
Absolutely. Our termite inspections are free, so why not?!
Local Houston Information
Houston is the most populous city in Texas, the fourth-most populous city in the United States, the most populous city in the Southern United States, and the sixth-most populous in North America, with a population of 2,304,580 in 2020.[2] 
Comprising a total area of 637.4 square miles (1,651 km2),[7] Houston is the ninth-most expansive city in the United States (including consolidated city counties).
Nicknamed the "Bayou City," "Space City," "H-Town," and "the 713", Houston has become a global city with strengths in culture, medicine, and research.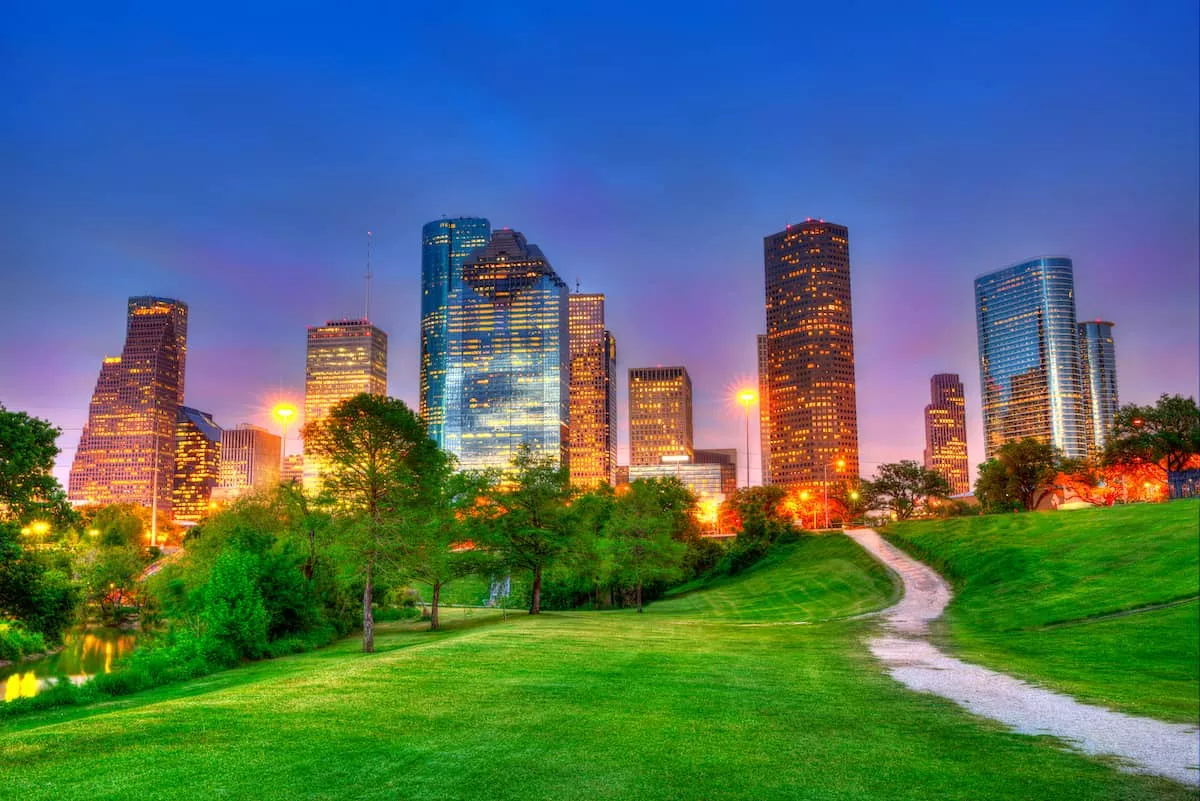 According to Neighborhoods.com, Houston is a cosmopolitan destination with a touch of southern flare that has something for everyone. 
Check below for helpful links for local to-dos and fun facts! 
Houston has about 10,000 restaurants that can appeal to a variety of taste buds. The culinary scene is just as diverse as its residents. Some of the dining options include seafood, Italian, American, Tex-Mex, and steakhouses.
Houston Premium Outlets provides awesome shopping experiences with 145 designer and name-brand stores at low outlet prices.
Places like Space Center Houston, Houston Arboretum and Nature Center, Downtown Aquarium, and the Houston Zoo are great things to do and see for the whole family.
The city has become an international cultural hotspot thanks to the Houston Museum District. Visitors can check out the Houston Museum of African American Culture, Czech Cultural Center, Asia Society Texas Center, and Gente de Teatro.
Outdoor recreation is readily available in Houston such as Buffalo Bayou, a 52-mile waterway perfect for observing the native landscape, canoeing, and kayaking.
Houston Public Libraries boast quite a few family-friendly activities. Find your closest location here.
Our committed, highly-qualified team of licensed technicians provides the best lawn fertilization, pest control, and mosquito barrier services available. We have a history of satisfied customers across Katy, Sugar Land, Cypress, The Woodlands, Houston, Memorial City, Spring, Missouri City, Richmond, Tomball, and Conroe. Our quality speaks for itself through the yards and voices of our customers and our abundance of five-star reviews.
"Best pest control near me could not be easier"
We are impassioned with one simple goal: for you to experience the best lawn you've ever had!
Houston Termite & Pest Control Services