A house is not a home without the proper curb appeal to welcome you; an attractive curb appeal isn't complete without a beautiful green lawn.  Lawn fertilization is a significant factor in achieving the beautiful lawn you are looking for. The right fertilization will help combat unwanted weeds, fungus &  turf-eating insects and play a prominent role in achieving a thick and healthy lawn.
GreenGate can make life easy for you with our 8-step Fertilization and Weed Control Program!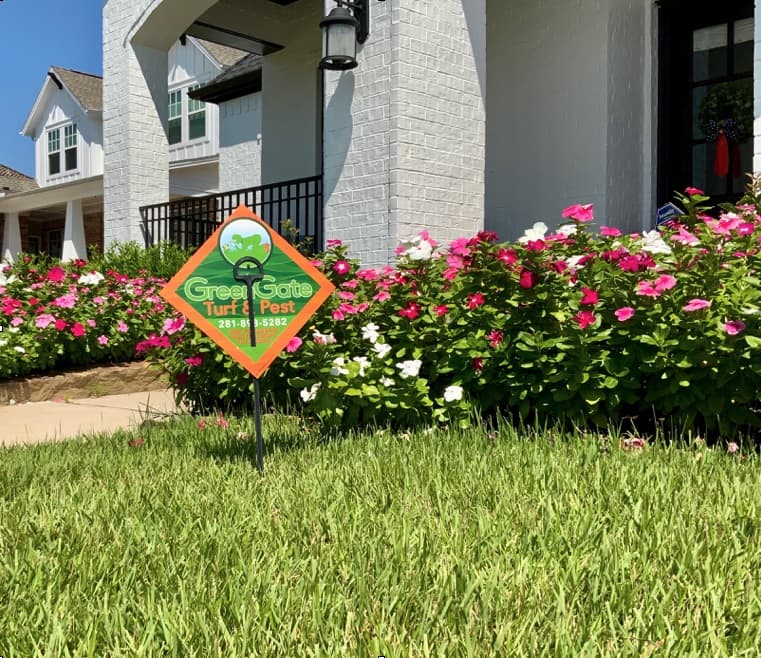 There are a plethora of options when it comes to lawn fertilization and weed control, which can sometimes make things confusing.  Is it organic? If so, how do I combat weeds? Is it safe for my family and pets? How often & when should it be applied, and how long will it last? Should I do it myself or hire a lawn fertilization company? Oh, the headaches!  
We use a Hybrid Program not available with national franchises and discount companies. A hybrid program combines organic, bio-nutritional, and chemical control products to get your soils healthy which is the key to thick green grass.
Best part? It is entirely safe for your family and pets! This means you don't have to worry about going out to enjoy the lawn after we've just serviced your property.
A quality, scientifically enhanced bio-nutritional lawn care program will regularly introduce billions of microorganisms into your soil. This is beneficial in helping your turf live its best life, thrive in its environment, and adapt to its conditions. Our Texas lawns cannot rely on bio-nutritional products alone. A hybrid approach that combines bio-nutrition, organic, and advanced control products will be the most effective overall and will get your grass thick and green much faster than traditional approaches offered by discount companies. Once your soils are healthy and happy, your lawn will start to choke out weeds and will require less water due to its newfound ability to retain the nutrients and moisture it receives.  
A lawn care program focused on soil health regularly feeds your turf the bio nutrition it needs, does not apply anything it does not need, and avoids the overuse of control products.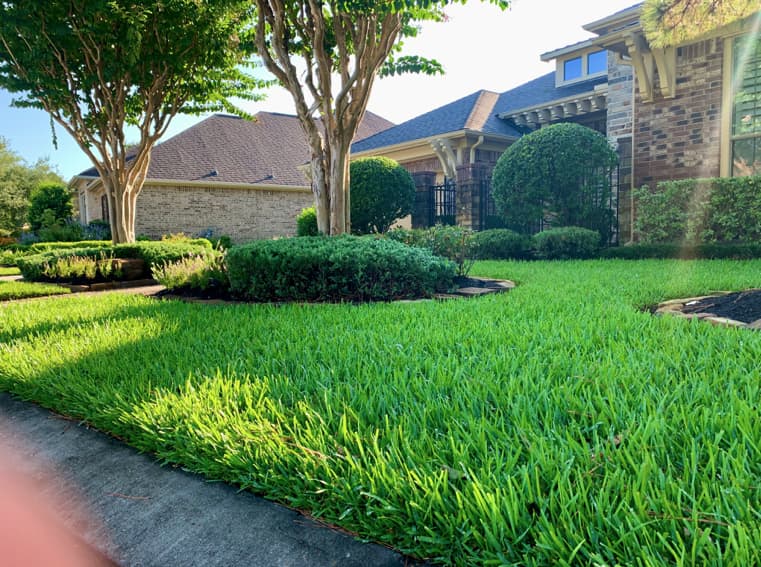 Completely organic lawn care programs will give you temporary green-ups because of the nitrogen used, but this type of program will not improve the health of your soil due to its lack of microorganisms or do anything to control your weeds. For these reasons,  organic programs only work well when other controls are added. 
Did you know? 
Soil provides habitat to organisms (such as bacteria and fungi) that account for most of the living things on Earth. When things are not balanced in your soil, these organisms will move on or die, causing your soil to congest and harden. Rock-hard soil doesn't allow for water and nutrients to reach the roots of your grass. Think of your yard as its very own ecosystem that needs balance to thrive.
Click here to understand the key to getting and keeping your soil healthy!
GreenGate's guaranteed 8-step Lawn Fertilization and Weed Control program is a simple promise to you- a luscious green & weed-free lawn. Our program is designed specifically for our hot, wet weather and year-round weed pressure. ALL weeds are included in our program; you will never be charged extra for any weeds.
Subject to the season, each of our eight applications will include some combination of the following treatments:
Premium, Slow Release Lawn Fertilization for a deep green, healthy turf
The industry's very best weed treatment products & application processes
Season-Specific Advanced Pre-Emergents
Nutrient & Microbe Biological Drench
Turf Root Growth Enhancement
Our program starts by focusing strongly on your soil, which is why we offer a FREE soil test that we gather on our first visit to your property. Your sample is then sent off to 2 separate labs and will arrive back in 2-3 weeks. The information and insight we gain from these soil tests will allow us to adjust our program to meet the needs of your specific lawn.
When it is all said and done, the best lawn care fertilization program will combine all the necessary nutrients for your soil because we know that healthy soil = a healthy turf.
Want the absolute BEST lawn in town??
Click here to find out more about our three advanced lawn aeration services. Aeration will break up all the hard clay soil we have in our area. Loosening up your soil will allow our bio-rich fertilizers to do what they were designed to give you the BEST lookin' lawn on the block!